Covid: Couple with Down's syndrome stop shielding to plan wedding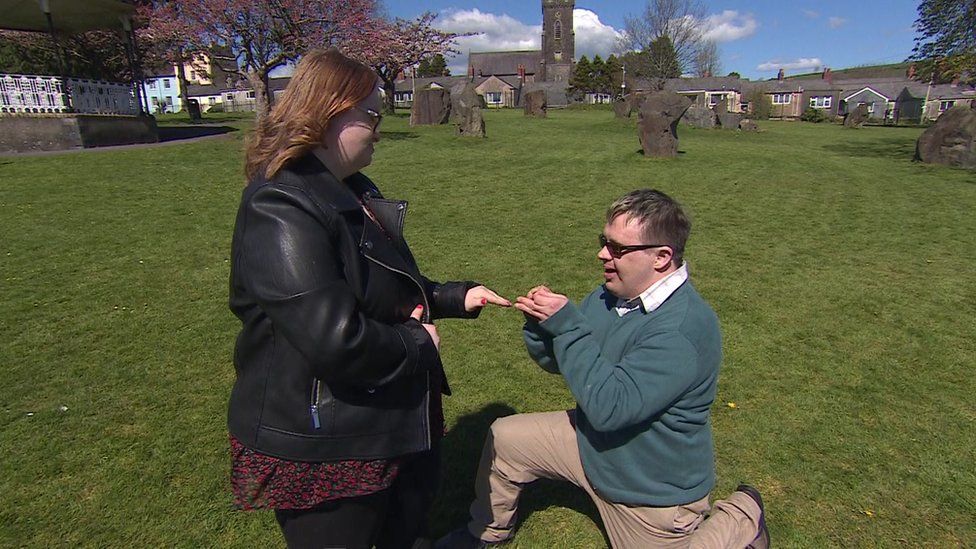 As a young man with
slotxo
Down's syndrome growing up in rural Wales, Chris Miller was not sure he'd ever find "the one'".
But the 38-year-old is now waiting for Covid restrictions to ease so he can have the wedding of his dreams with his 22-year-old fiancee Ffion Martin, who also has Down's syndrome.
Professional actors Ffion and Chris met while working at a theatre company.
After two years of dating, Chris popped the question during the first lockdown - and Ffion said "yes".
"In the first lockdown, we were in the back garden and to be honest it was magical when he proposed," said Ffion.
"It felt so amazing, I felt like I love this guy more than ever, he's an amazing guy to be with.
"It just made my heart proud and I'm glad."
'You make my heart fly'
Ffion and Chris, both from Carmarthen, have been dating for more than two years. They met at the Hijinx theatre company, which works with actors who have learning disabilities.
Both had received letters asking them to shield during the second lockdown, as they were considered clinically vulnerable because they have Down's syndrome.
This meant the couple were kept apart, having to speak solely on the phone until lockdown rules were relaxed.
Getting down on one knee to re-enact the proposal during a walk in Carmarthen Park, Chris said: "Ffion, you make my heart fly. Can I have your hand for marriage? My heart is always with you, every time."
'Can't choose dress'
"The flowers will be roses. It's going to be a big wedding. Everyone thinks it's going to be a big, grand gesture but it's going to be nice little details in there.
"I can't go shopping so I can't choose a dress or have fittings yet. I would like the girls from Hijinx to be my bridesmaids but I'm having two and there are eight of them!
"I'm thinking of Elton John's Your Song for our first dance and Chris loves jazz."
In the meantime they plan to "stay together and be strong together", enjoying their favourite long romantic walks together - and a bit of waltzing - now that they have both had the full Covid vaccinations.