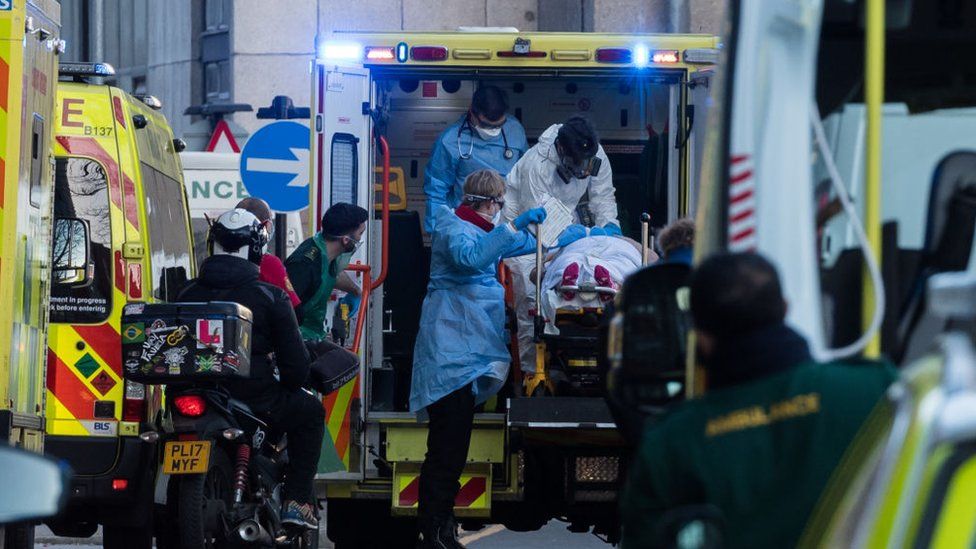 Weekly deaths involving coronavirus in England and Wales have dropped 92% since the peak of the second wave in January, according to official figures.
Meanwhile, the total number of deaths registered in the UK over one week is 5% below the five-year average.
It comes amid continued efforts to reassure the public over the Oxford-AstraZeneca vaccine's possible link to rare blood clots.
Earlier, Health Secretary Matt Hancock said the jab remained safe.
He urged those who had received one dose to take up their second and said the UK was on track to vaccinate all adults by 31 July.
Figures from the Office of National Statistics showed there were 712 deaths involving Covid in the week ending 19 March, down from 8,945 in late January.
The largest falls were seen among the oldest age groups, with deaths falling 92.9% among those aged 80 and over and 93.4% for the 75 to 79 age group, compared to 83.7% for those aged 60 to 64.
Separate figures showed the number of deaths registered in the UK in the week ending 26 March was 11,439, which was 5% below the five-year average. Last week, deaths were 8% below the 5-year average.
Some 799 of these deaths involved coronavirus.
Blood clot victim's sister urges people to get jab
How do you weigh up the risks of the AZ vaccine?
Which Covid vaccines are available around the world?
When will I get my Covid jab?
Adults aged over 80 were the second priority group for vaccination, followed by over-75s and over 70s. The government says everyone in these groups was offered a jab by mid-February.
pgslot
Figures on Thursday showed the UK's vaccination programme had recovered after a lull over Easter, with an extra 408,396 second doses administered and 99,530 first doses. The number of people fully vaccinated is now over six million, while 31.8 million have received just one dose.
Another 3,030 confirmed cases were reported, along with 53 further deaths within 28 days of a positive test.